Ortega (in sector 82)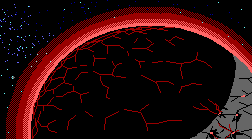 The volcanoes of Ortega are constantly reshaping its surface. Dressed in heat resistant underwear, the hearty traveler can find a lava lovers paradise on this starkly enjoyable planet. But to be completely honest with you, Ortega bites!
A force field generator can be found on Ortega. It is assembled by the field researchers of ScumSoft (makers of software that needs debugging). This huge structure contains a electro magnetic field pulse generator that is strong enough to keep the little moon of Pestulon out of sight from fans, layers and bill collectors. A perfect location for the HQ of Scumsoft, don't you agree?