Arcada, the Federal spacelab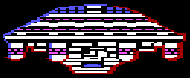 Roger's adventures began with exiting the broomcloset of the Federal spacelab, the Arcada. It is a very large space ship, built exclusively to test the Star Generator. When the crew of the Arcada had completed their research, they went home. However, the Arcada would never reach its destination, as it was attack by the Sariens. This evil race stole the Star Generator that was onboard.
Self-destruct
was activated and it exploded a few minutes later.